Walking through the airport this morning to fly to Los Angeles for the Fitness Blogfest Conference, I knew I needed something for breakfast. I was so excited to see Jamba Juice! Andrew and I have enjoyed a Jamba Juice smoothie everyday while in Vegas. Today I ordered an Amazing Greens Smoothie with a Spinach, Egg, & Cheese wrap.
The Amazing Greens Smoothie was my favorite so far. It has all of the great greens, but without the greens taste. The smoothie I ordered yesterday was good, but I did miss the fruity taste. With the Amazing Greens Smoothie, it is the best of both worlds. 
The wrap was pretty good. I have a confession…I have not given up my white flour tortilla yet. I don't eat tortillas very often, and so I haven't felt the need to switch to whole wheat tortillas. Jamba Juice uses whole wheat tortillas for their wraps. Wow…if all whole wheat tortillas tastes this good..I'm sold. It really made the whole wrap that much better. The rest of the wrap wasn't memorable. The spinach was from frozen spinach…a totally different taste than fresh spinach. I put fresh spinach in my eggs on a regular basis and love it. This, not so much. However, I did enjoy the breakfast as a whole and feel that much better for eating it.
It would be easy to make a great Amazing Greens Smoothie at home! After having a couple of green smoothies the last two days…I'm hooked, so I have to make plans so I won't be disappointed when I get home and can't walk to get an Amazing Greens Smoothie from Jamba Juice.
Amazing Greens Smoothie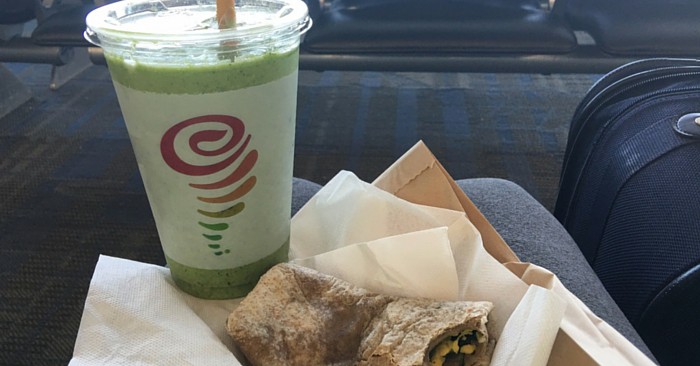 1/2 Cup Lemonade
1/2 cup Peach Juice
1/2 cup Fresh or Frozen Kale (don't allow it to thaw out before using it)
1/2 cup Fresh or Frozen Peaches
1/3 Fresh Banana (frozen will ensure a nice cold smoothie)
2 Tbsp raw Pumpkin Seeds
1/2 cup crushed ice
Blend everything for about 20-30 seconds or until smooth.
Workout Tip for Weight Loss
Congratulations for making it to Day 14 of the 30 Day Weight Loss Challenge! You have put a lot of effort in making your goals and deserve a pat on the back!
You may have picked up some aches and pains you didn't have or notice prior to starting a new active lifestyle. We are at the age where that kind of comes with the territory even when we don't always feel 40+.
I've told you about my back issues…now I'm recently having a little more pain in my knees. A couple of things I am going to try. One, I just bought a new pair of Brooks and Nike running shoes in case my shoes are worn out. Also, I am going to try taking some Glucosamine for joint health.
I have been told the style of horseback riding I do can cause knees to take a pretty good beating, so I'm not surprised my knees are whispering for some attention now.
My workout tip for you today is to take care of your aches and pains as needed. Make sure to improvise an exercise, take a day off, see your doctor…whatever is needed to take care of yourself. This is about taking care of our body, not abusing it while trying to get fit and healthy.
Get moving today and get a workout done that will be beneficial for your body! Burn some calories and keep up the hard work when you walk into the kitchen!
Go out and get the ingredients for your Amazing Greens Smoothie to make today! Yummm!
If you haven't joined our Weight Loss Facebook group, pop on over now to join in the chatting about weight loss ups and downs! Women Over 40 Losing Weight & Living Healthy