Nothing says I'm over 40 like a mom butt, right? Truth be told, there isn't a woman over 40 who wouldn't love to get rid of your mom butt. I was totally with you on this, and have been working pretty hard to boost my booty.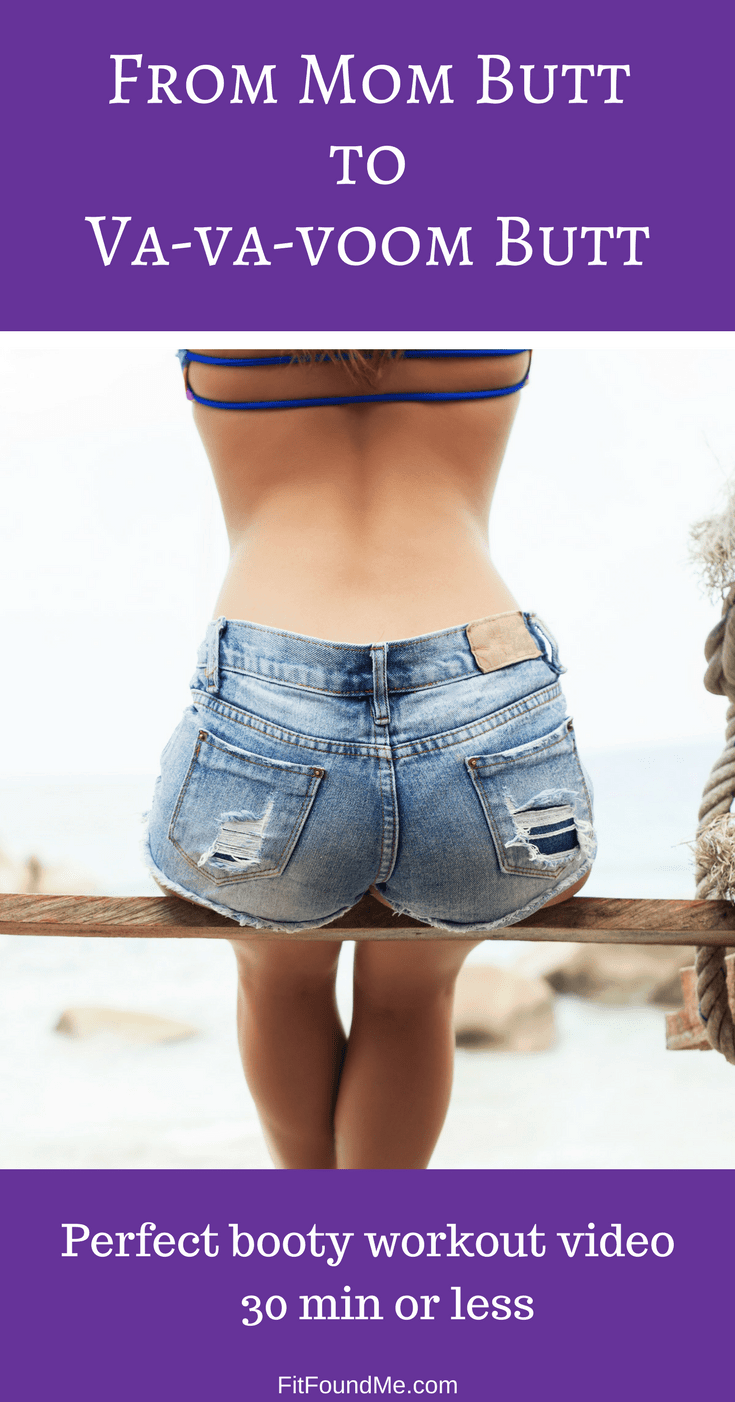 I remember when I was in my 30s and realized my butt was changing. Your mom butt may not be the topic of your favorite conversation, but we all want to have a cute butt in our jeans, and not to mention our swimsuit on vacation!
If we aren't careful, that mom butt can get worst when we lose weight if there aren't targeted glute exercises done regularly. Weight loss for women over 40 really has to include strength training or we become the "skinny fat", that doesn't give us the lean, fit look we want.
To get rid of your mom butt, you have to do some very focused exercises to engage the glutes.
And, let's face it, most all body workouts don't put enough focus on our butts. I mean, I would rather have underdeveloped triceps than a drooping butt. That said, if you have flabby arms, be sure to add this workout to your routine weekly.
Exercises for a Rounder Butt
You may not realize there are 3 major glute muscles and it is important to work each group to achieve the round perfect butt as a woman over 40.
When you are in one of my weight loss challenge groups, we definitely put a strong focus on our glutes, as well as our entire body for muscle toning and metabolism boosting.
In addition to the workout above, these exercises can be done around the house to better engage and tone glutes to get rid of your mom butt.
I have learned over the years the importance of actually engaging muscles to tone. Make sure when you are doing your workouts you take the time to engage, or flex, the muscle you are working on. Perhaps that sounds elementary for some, but if you have never worked out before like I had not prior to a few years ago, it is easy to go through the motions without making progress.
Glute Workout Tips for Lift Your Buttocks
When working my glutes, I will often place my hand on the muscle I want to target to help me engage better.
Include a glute targeted workout once a week.
Have a weekly workout plan with a balanced whole body toning and a day focused on legs.
Practice engaging glutes throughout the day.
Feed your glute muscles the protein needed for rebuilding after workouts.
Don't rely solely on squats and lunges.
Lastly, consistency wins every time. It may feel like you aren't making progress on a day to day basis, but when you are consistent week after week, results will happen! It is totally possible to get rid of your mom butt after 40!
Need some extra accountability and direction? Join the Fit Found Me Team Weight Loss Challenges for women over 40.
Go get busy on getting rid of that mom butt! You've got this!
Recommended Posts You Might Like:
If you like multi-tasking, these exercises are perfect for you. A great way to lift and build your glutes to being swimsuit and jeans worthiness. Exercises that can be done anywhere around the house while doing household chores!
The 30 Day Challenge: Butt and Legs Toned, Lifted, Ready for Summer
Don't be discouraged by the junk in your trunk this year when it's time to put on your swimsuit. This 30 day butt and leg challenge will tone, tighten and lift muscles you didn't know you had. Just because you are over 40, doesn't mean you have to look it…or feel it for that matter. One of the physical differences between women over 40 and younger women is the muscle tone. This 30 day challenge will get rid of your mom butt! Add this to your favorite workout routine!